Backöfele Restaurant in Würzburg - the Franconian original
If you are looking for typical Franconian cuisine, the Backöfele in Würzburg is the place to go. Franconian delicacies in traditional surroundings await you here. It is not for nothing that the Backöfele restaurant is visited daily by many enthusiastic tourists and gourmets who enjoy eating out in Würzburg. For more than 40 years, the culinary diversity of Franconia has been celebrated here. In addition to popular classics such as schnitzel, traditional dishes such as Schäufele are also on the menu. At Backöfele Würzburg, things are warm, down-to-earth and cozy. Discover a cozy gem full of tradition and good humor. Here you can spend a cozy evening with good friends or celebrate a hearty feast with your loved ones. The Franconian original offers you daily warm cuisine and is happy about every big and small visitor.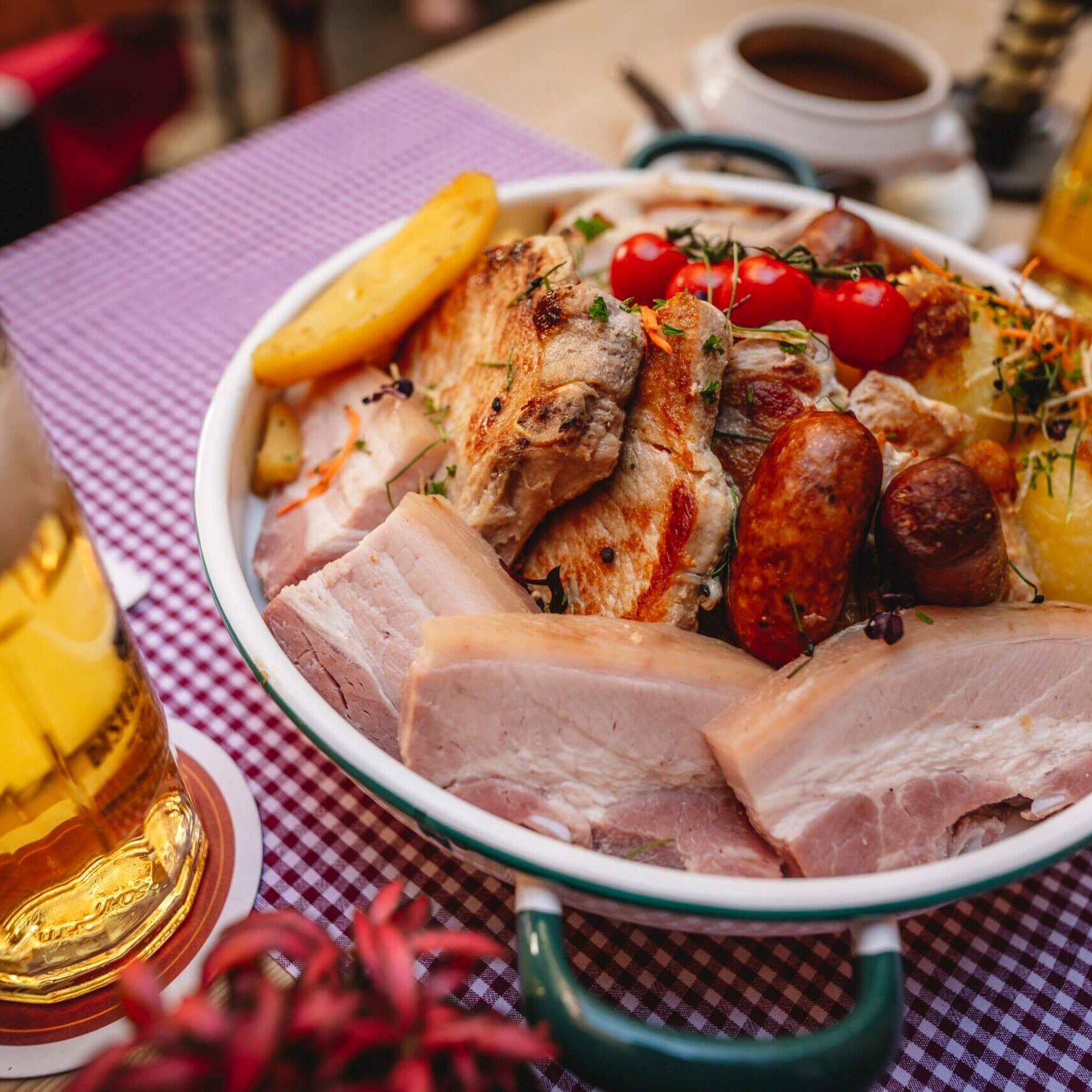 Experience genuine Franconian coziness with the Backöfele-Pfännle
With the Backöfele-Pfännle we serve you not only genuine Franconian classics, but above all genuine coziness. We bring this one bowl to the table, from which you share the food and then feel quite comfortable.
...a bit like grandma's house.
The Pfännle is filled with grilled pork chops, roast pork, cured belly meat and bratwurst. Served with sauerkraut, hand-rolled potato dumplings, potatoes cooked in the broth and a pot full of dark beer gravy.
And the best thing about it: it is enough for 4 people (29,00 € p.p.).
Share and enjoy the Backöfele-Pfännle with your family or friends. Because we all know that there is nothing better than spending time together over a delicious meal and good conversation.
Genuinely Franconian, genuinely cozy - just as we have loved and lived for 45 years.
Lived tradition for 45 years

The main building was donated by Prince Bishop Julius Echter as early as 1580. The Backöfele can therefore look back on over 425 years of Franconian family tradition since then.

There is the right place for everyone. It can be the small romantic corner, the cozy table for the pint in the courtyard or the large table in front of an ancient mural.

We offer a classic Franconian cuisine with a keen eye for subtleties and a lot of desire for tradition. New things are integrated just as lovingly as the tried and tested.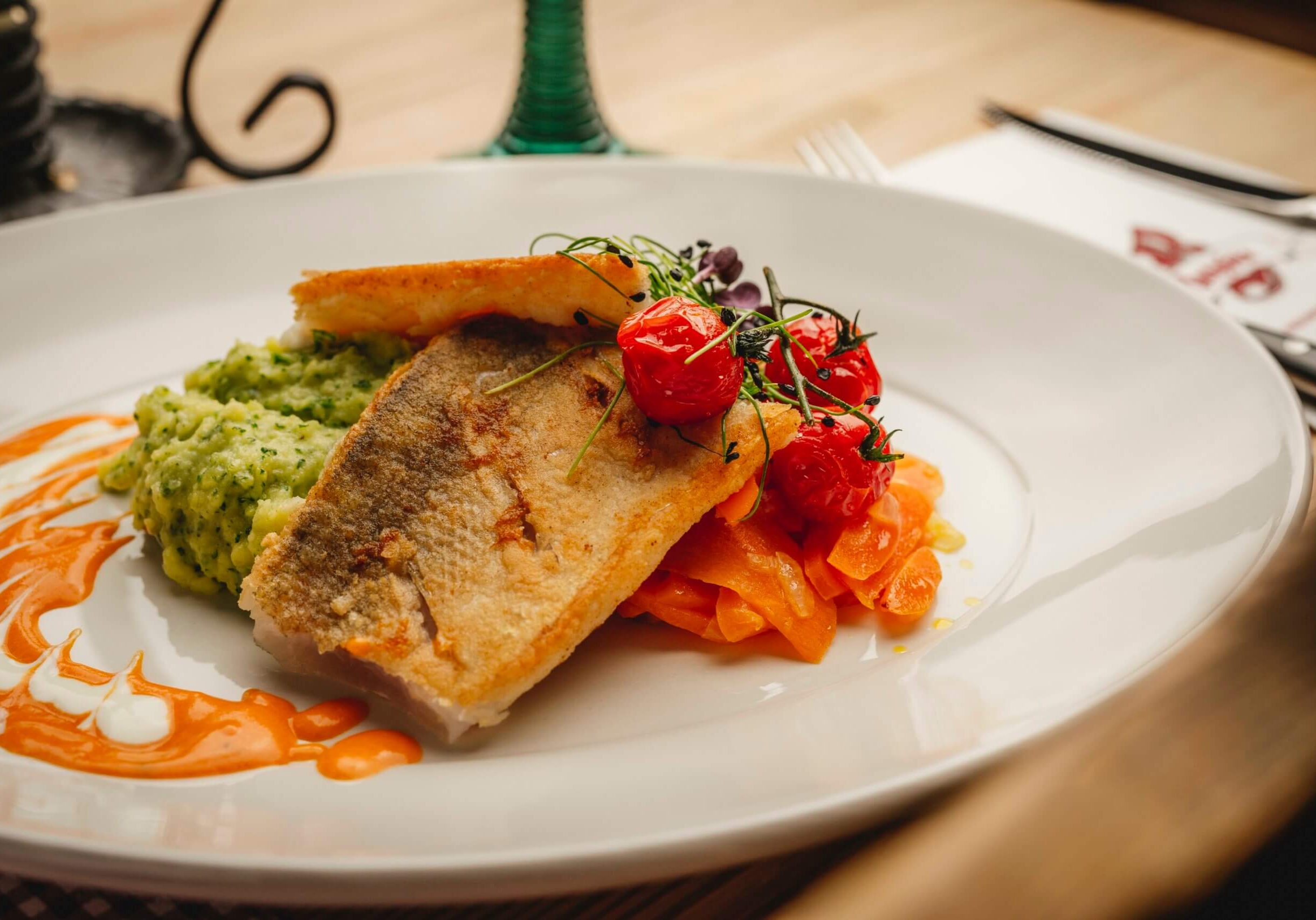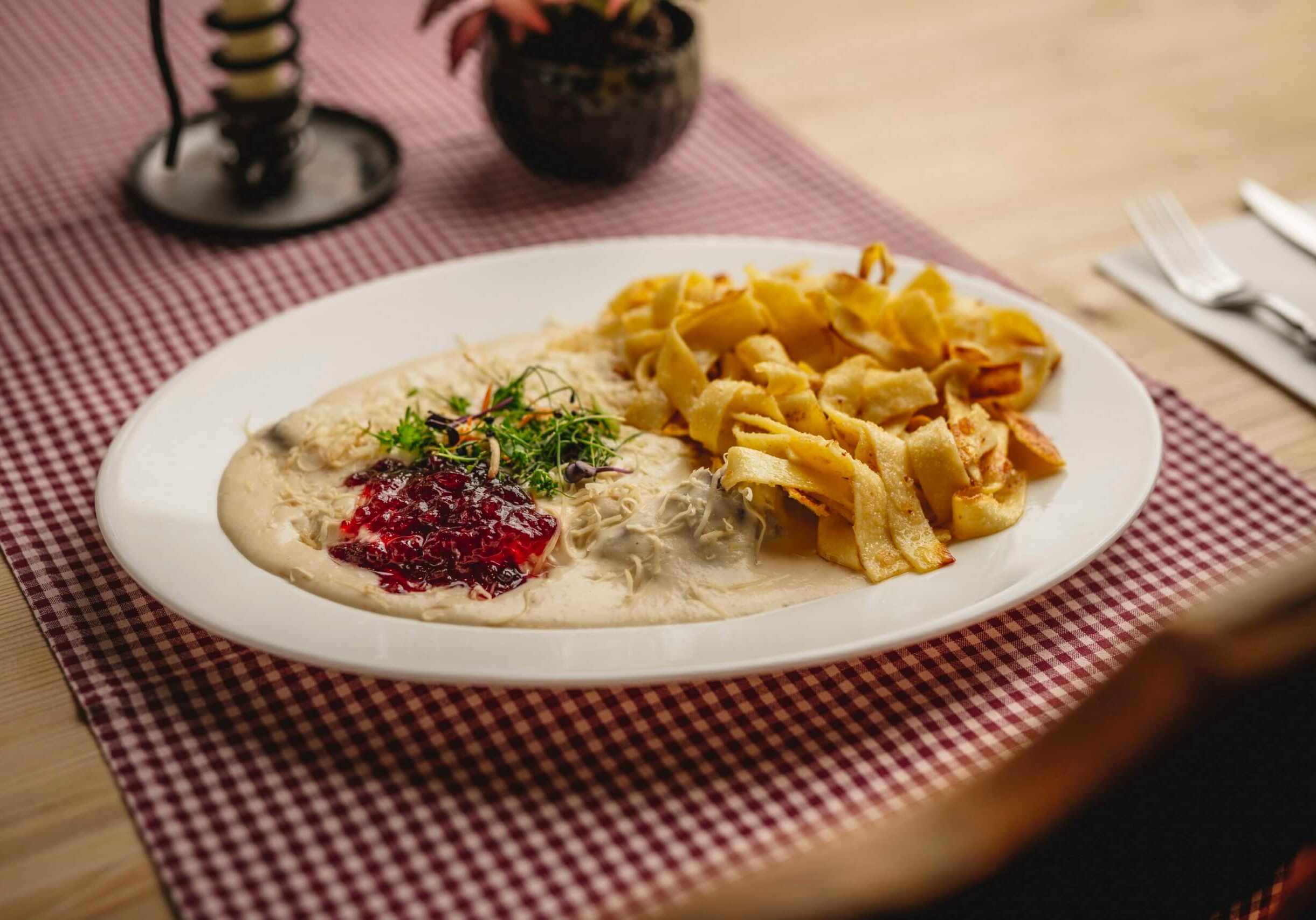 Our dishes in the Backöfele
Restaurant and
Seating options in the Backöfele
The main room at Backöfele Restaurant in Würzburg is the center of the action. The unobstructed view of the half-open kitchen whets the appetite for more. On the other side you can have a good view of the courtyard lit with candles. The heart of the Backöfele is the taproom. Here you can test the best vintners of Franconia at a large copper counter. Those looking for company can make themselves comfortable at our regulars' table, which has been in existence for more than 40 years, and strike up a conversation over a good glass of wine.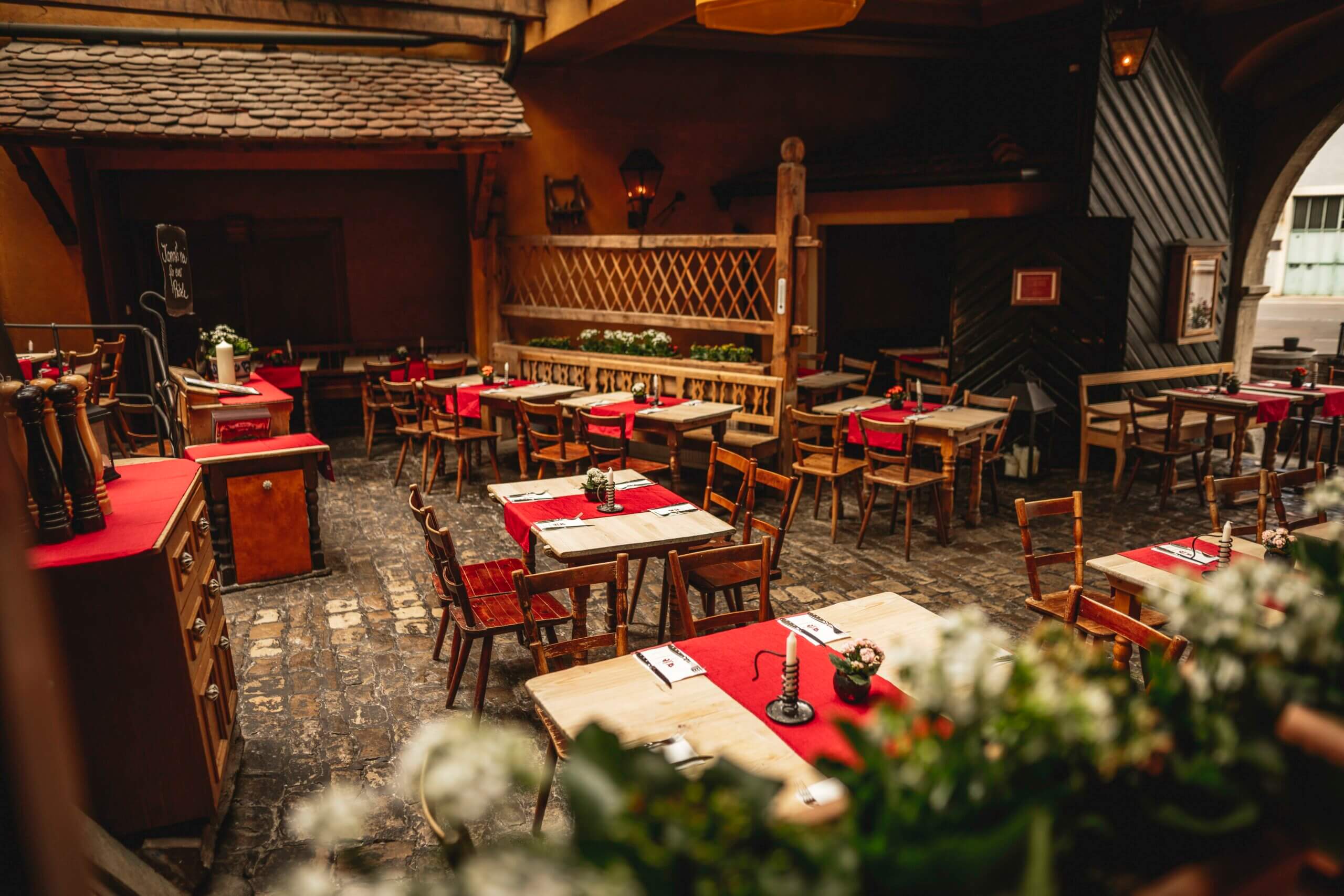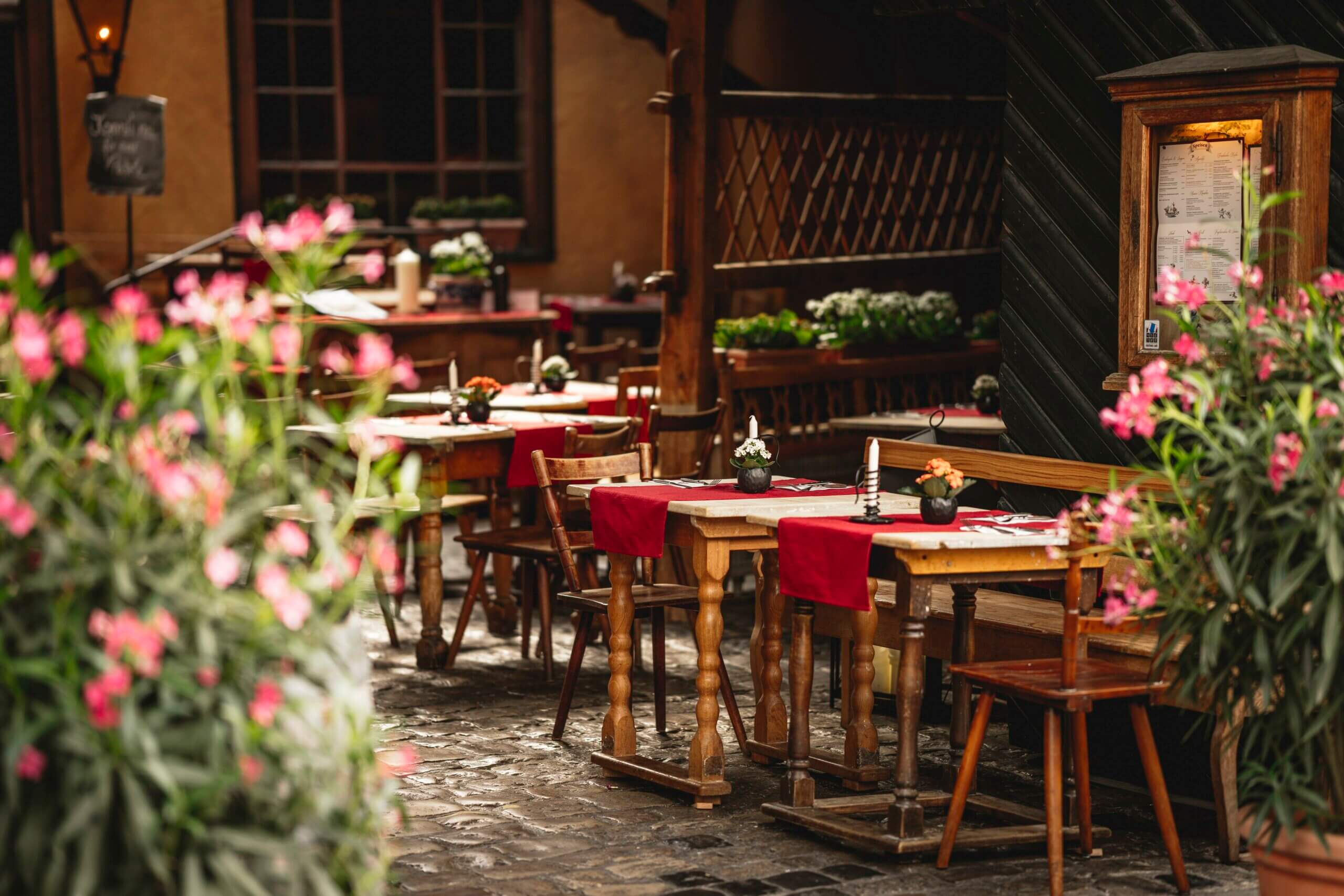 The slightly different ambience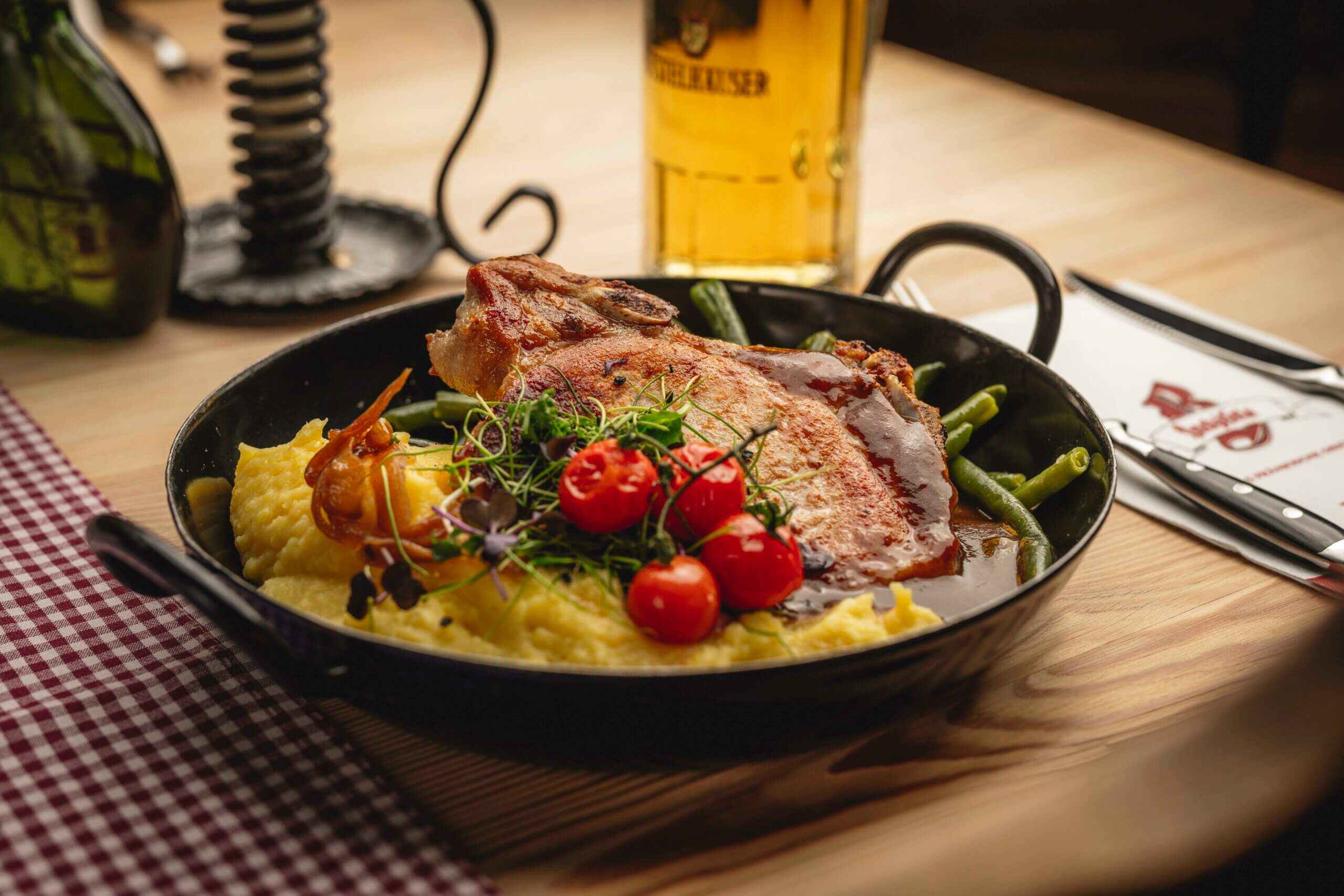 Our specialties in the restaurant
Backöfele Würzburg
At Backöfele in Würzburg you can enjoy traditional Franconian food. We have been offering you the Franconian original for more than 40 years. The Backöfele stands for excellent taste and consistently high quality. All dishes are prepared with great pleasure in tradition and attention to detail. We not only rely on tried and tested recipes, but are also open to new discoveries and implement them just as lovingly. In addition to a changing seasonal menu, you have the option to choose a delicious dish from our daily menu or take a look at our regular menu.
Request table at Backöfele now
What is there to consider?
If you book between 17:00 and 19:00 your place is reserved for 2 hours . This means that your table will most likely be given to other guests afterwards.
You want to book for more than 8 people?
Dogs are of course always welcome with us.
We accept card payment with EC, Visa, Master and UnionPay.
However, please note that if you have 8 or more people, we will only bill you by the table. Single payer is not possible in this context.