Your Easter celebration in Würzburg
Easter is such a beautiful occasion to get together and enjoy time together. Welcome spring and celebrate Easter at the Backöfele restaurant.
Whether at noon or in the evening, whether classically with the family or as a meeting among friends - with us you will find the right place for your Easter celebration in Würzburg.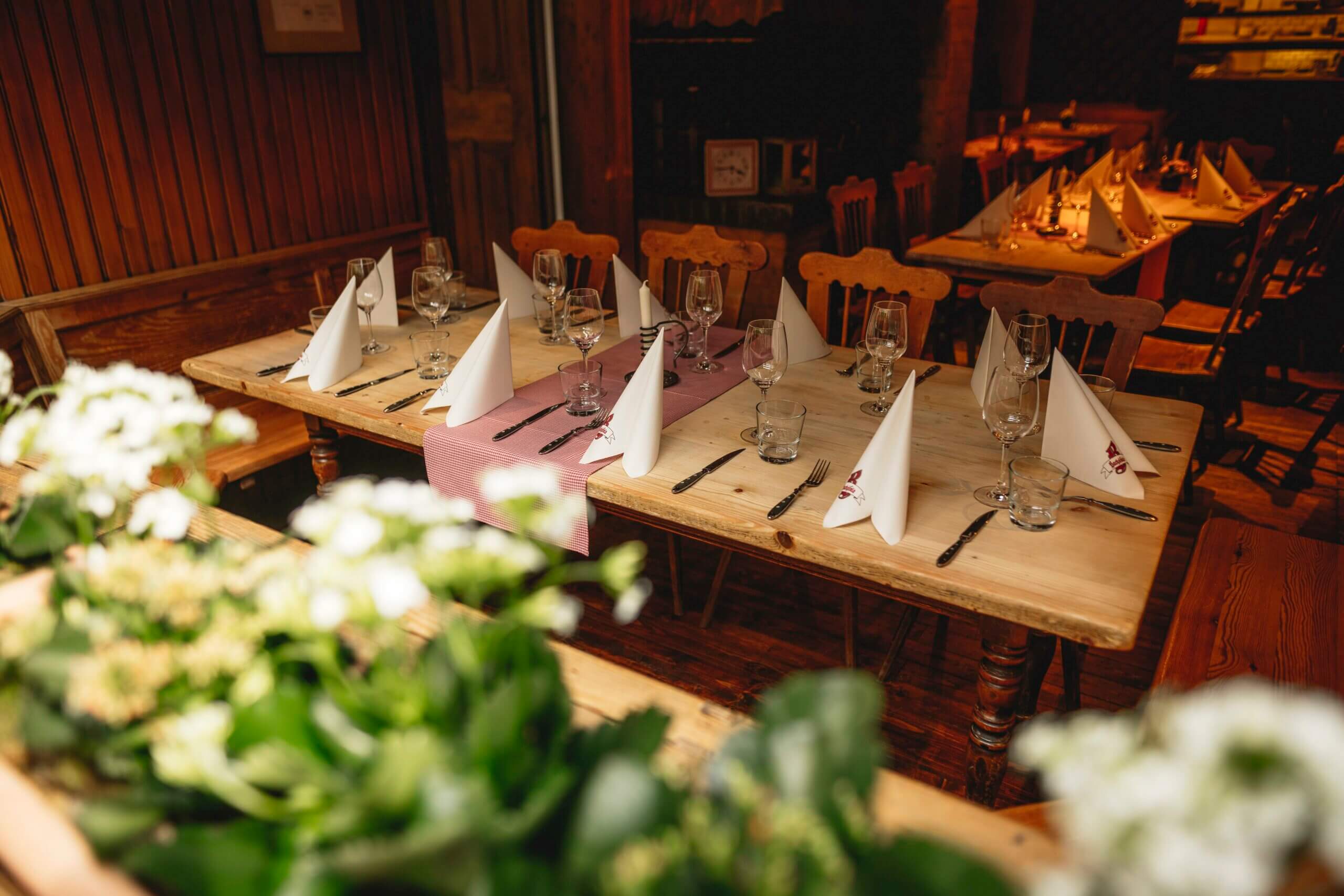 Franconian food at Easter
Easter marks the end of Lent, which means you can feast to your heart's content. We serve genuine Franconian cuisine prepared with lots of love - just like grandma used to do.
On our
menu
you will find hearty classics like the Franconian Schäufele as well as springtime light dishes like the Franconian river pike perch. And also vegetarians do not come too briefly with us: try nevertheless simply times our tasty lentil stew after grandma Ehehalt.
We would also be happy to put together an Easter menu for you in advance.
Ask us for this best of our group card
.
There are allergies or intolerances? No problem. It is best to inform us when you make your reservation or speak to our service on site. Our kitchen is happy to cater to your individual wishes.
The right wine accompaniment should not be missing at any celebration. On our Franconian
wine list
you will find a first-class selection of wines from the region. Whether light white wine, strong red wine or a genuine Franconian Secco for toasting - we have the right wine for your dish. By the way: if you like to discover new wines, let us inspire you with our insider tips.
On our menu of fine brandies you will find fine drops from the region - the so-called "Absacker". It must not be missing at any celebration here in Franconia... after a hearty meal it is good for the stomach.
Our premises for your Easter celebration
If you want to celebrate Easter in the restaurant with the whole family, you are at the right place with us in the Backöfele. For large rounds for up to 40 people is suitable our hunting room. With 8 tables, they are among themselves - so the atmosphere is guaranteed.
If you prefer to celebrate in a small circle with family and friends, you can find a place at one of our tables in the main room. Here there are tables that fit up to 14 people. Franconian sociability reigns through and through.
For even smaller gatherings, you are also welcome to sit on our covered terrace. This is a great place to welcome spring.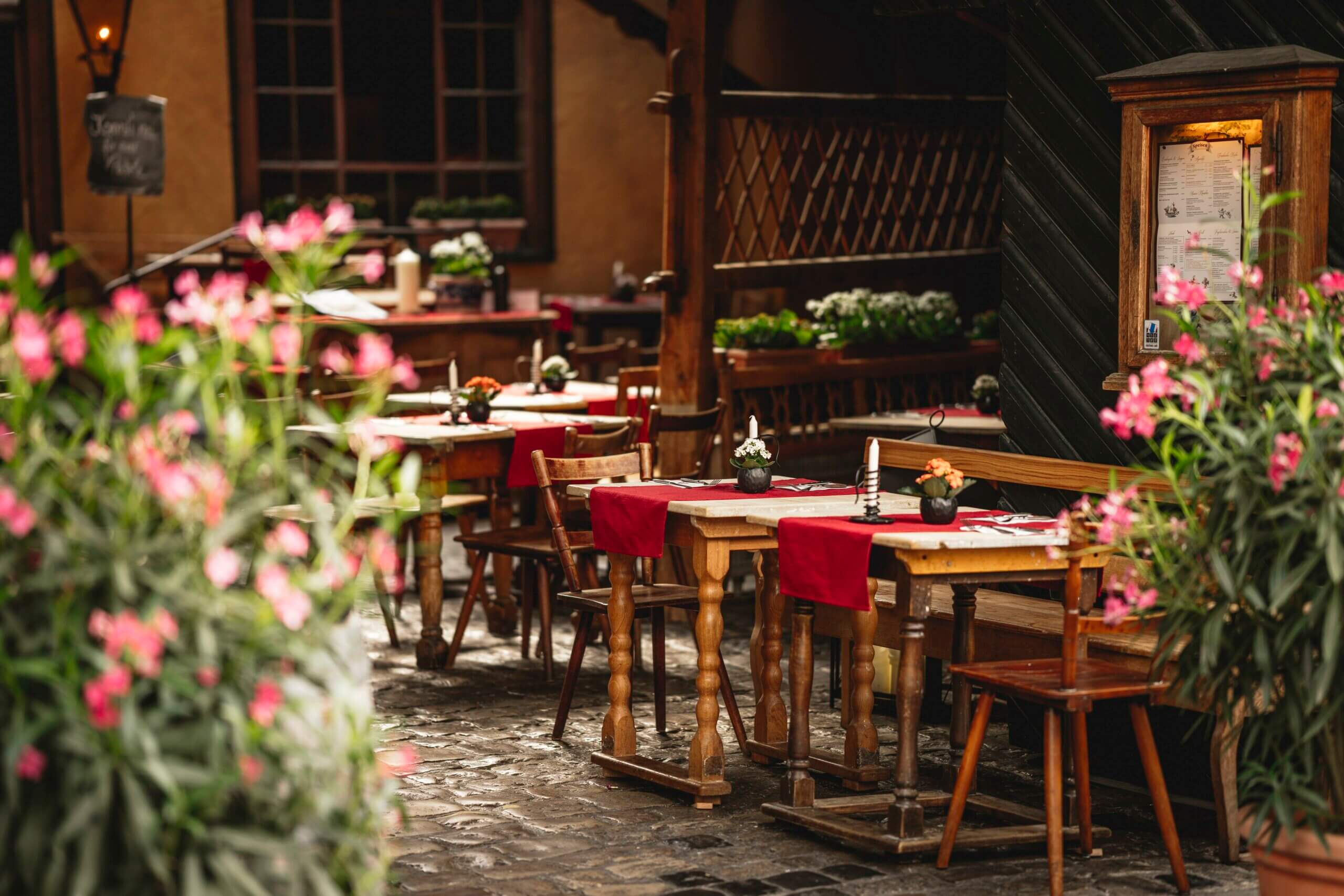 Celebrate Easter in the heart of Würzburg
St. Kilians Cathedral in Würzburg is only a few minutes walk from the Backöfele. So you can reach the restaurant and thus your personal Easter celebration barrier-free. The Backöfele is therefore the suitable restaurant to stop after the Easter Mass in the Würzburg Cathedral or in another church in the city center.
What would Easter be without a spring walk!
The Main promenade with its view of the fortress and Würzburg's Käppele is of course particularly suitable for this.
By the way, our personal tip for a spring walk is the Residenzgarten. Maybe you're lucky and the cherries are blooming right now - a dream in pink! Not only a romantic sight, but also a great photo motif for your Easter celebration in Würzburg.
For families with children we recommend the nearby Ringpark. Easter eggs can be hidden, searched for and found on the extensive grounds and all this in a spring blooming park.
The stop at the Backöfele then represents the highlight of your Easter celebration. No matter whether at noon or in the evening, with us you strengthen yourself with Franconian delicacies.
Of course, we are well connected to the public transport network. So you can reach us comfortably by bus or train. It's best to leave the car right there and enjoy your Easter celebration - maybe even with a glass or two of wine.
Relaxed Easter celebration in the restaurant
Easter is a celebration for you, your family and friends. With us at Backöfele you can enjoy the time together, stress-free without preparations and the clean-up afterwards. Here you can sit back, chat, eat and get comfortable.
We are looking forward to meeting you!
Request table at Backöfele now
What is there to consider?
If you book between 17:00 and 19:00 your place is reserved for 2 hours . This means that your table will most likely be given to other guests afterwards.
You want to book for more than 8 people?
Dogs are of course always welcome with us.
We accept card payment with EC, Visa, Master and UnionPay.
However, please note that if you have 8 or more people, we will only bill you by the table. Single payer is not possible in this context.