Your family celebration in Würzburg
Whether it's a traditional occasion like baptism, communion, confirmation, or an anniversary like a special wedding anniversary or celebrating passing an exam or graduating from high school, there are countless reasons to come together as a family and celebrate together. The Backöfele is the ideal restaurant for your family celebration.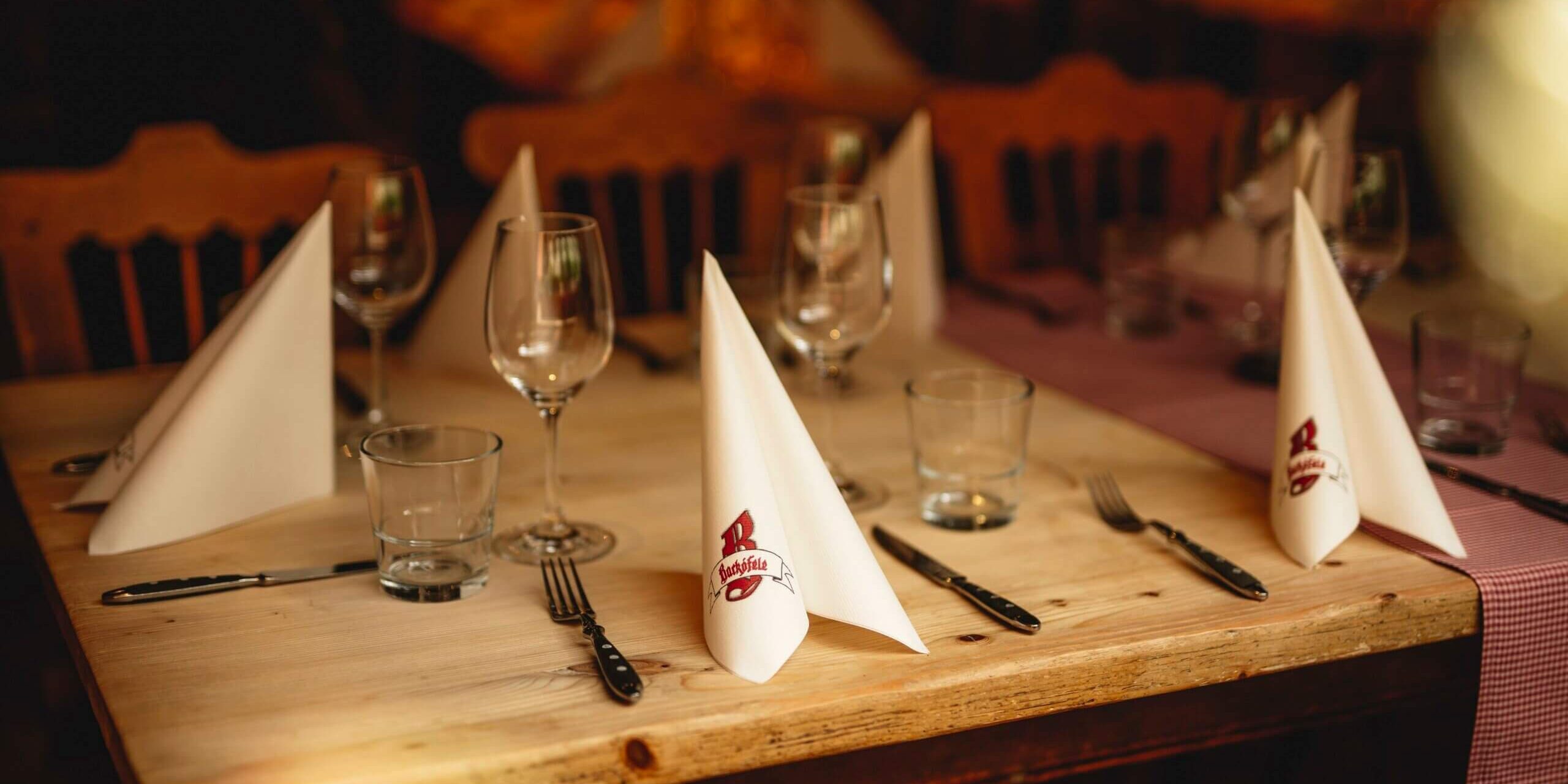 Franconian food and celebrate together
Good food is the foundation of any family celebration. When you plan your family celebration at a restaurant, you not only save on prep work in the kitchen, but you get to spend more precious time with your loved ones at the table.
Our kitchen cooks down-to-earth and above all with a lot of love. For this we prefer to use fresh ingredients that come directly from the region. Only in this way can we serve you genuine Franconian cuisine of the best quality. On our menu you will find classics like the Franconian Schäufele as well as light dishes, for example the salad "Backöfele". No question - vegetarians will also find what they are looking for. We recommend the hearty lentil stew according to Grandma Ehehalt.
Conclude the family dinner with us in the restaurant with a delicious dessert. How about our "Backöfele Kaiserschmarrn". It is served in a cast-iron pan and is then shared - in a very familiar way - in the square.
In case of allergies or intolerances you are welcome to inform us in advance. Or talk to our service in the restaurant. This allows the kitchen to respond individually to your wishes.
Would you like to create a menu for your family celebration?
The best way to do this is to contact us directly.
Here in Franconia, wine must not be missing from any celebration. Our
wine list
holds a wide selection of regional wines for you and your guests. Our tip: Toast together with a genuine Franconian Secco.
Besides the classic white and red wines, you will also find real insider tips on our wine list. The right wine accompaniment, then - both for the food and for the entire celebration.
Of course, our "nightcaps" also come from the region. You will find them on our card with the noble brandies. The fine drops close on the one hand the stomach, on the other hand they provide for an exuberant mood on your family celebration.
Our premises for your family celebration
Are you planning your family celebration in the restaurant? We have the ideal premises for you. Because no matter whether you celebrate in the smallest circle of the family or plan a large celebration, with us everyone will find the appropriate place. Our large tables in the main room can fit up to 14 people.
If the distant relatives also come, our hunting room offers itself. Here, up to 40 people can be seated at 8 tables.
Either way - Franconian coziness reigns here at Backöfele. Nothing stands in the way of a hearty celebration!
Your family celebration in the heart of Würzburg
The restaurant Backöfele is centrally located in the old town of Würzburg. Thus, it is the ideal location for your family celebration.
Because especially for your guests who travel from further away, a city walk through the beautiful Würzburg is worthwhile. The nearby Main promenade offers a magnificent view of the Marienberg Fortress, the Käppele and the vineyards surrounding the city. A nice subject for a new family photo, by the way.
But also for the journey the Backöfele is perfect as a restaurant for your family celebration. By car you can find a parking place in the market garage or in one of the nearby parking garages.
Since the Backöfele is well connected to the public transport network, you can also reach us quite comfortably by streetcar and bus.
It's best to just leave the car, enjoy time with your family and toast life with a glass or two.
Your family celebration in the restaurant
No matter what occasion brings your family together, the Backöfele offers the perfect setting for your family celebration.
We look forward to seeing you and your guests.
Request table at Backöfele now
What is there to consider?
If you book between 17:00 and 19:00 your place is reserved for 2 hours . This means that your table will most likely be given to other guests afterwards.
You want to book for more than 8 people?
Dogs are of course always welcome with us.
We accept card payment with EC, Visa, Master and UnionPay.
However, please note that if you have 8 or more people, we will only bill you by the table. Single payer is not possible in this context.